SPRINGBOARD EQUIPMENT OPTIONS
BARCODE SCANNERS
The majority of USB barcode scanners will work with Springboard Retail. If you are experiencing issues with how the data is scanned, most scanners can be reconfigured using a series of barcodes available from the manufacturer. Our scanners need to be in Keyboard/iOS mode and configured to send a carriage return after scanning.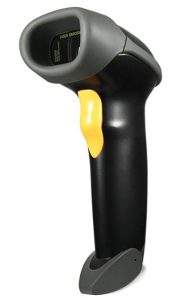 RECEIPT PRINTERS
For receipt printers, most USB printers will work on PC/Mac as long as they can accept 3 1/8″ paper. Depending on your printer model, you may need to alter the settings on your printer to get receipts to cut at the appropriate place or to adjust the margins.
LABEL PRINTERS
The  two label printers that will allow you to print directly from Springboard Retail are the Zebra LP 2824 Plus and the Zebra ZD410 printer.  However, on a Mac or PC, you can generate PDFs for several different label sizes (for both thermal and laser printer-based labels) that can then be printed from a PDF viewer to your label printer.
CASH DRAWERS
The recommended cash drawers are manufactured by APG. These cash drawers along with TSP receipt printers are recommended because the Springboard software can communicate to fire the cash drawer when the payment is cash or check. With the recommended cash drawer and printer, the system will also fire the cash drawer when you start the opening and closing drawer cash count procedure. This procedure should be completed at the beginning and end of each business day.
The cash drawer plugs directly into the receipt printer which allows quick and easy setup. Other cash drawers can be configured to fire when a receipt is printed, however, that will cause it to open for every transaction type, including credit card transactions. You can also use a manual cash drawer that is not configured to kick at all.