SPRINGBOARD PRINTER TIPS
SET UP THE ENVIRONMENT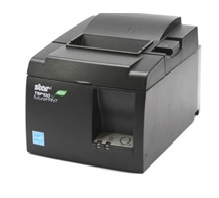 ☐   The power outlet you plan to connect to for power should be nearby and unobstructed.
☐   Cords should be able to be plugged in and not freely able to be unplugged or moved.
☐   Make sure that the printer is close enough to your host computer for you to connect the two.
☐   Make sure that the printer is well away from heaters and other sources of extreme heat.
CONTROL PANEL


☐ The control panel provides a starting point if there is a setup issue or when additional errors occur.
TROUBLESHOOTING
☐   Does printer have paper?
☐   Does printer have power? Green light should be on and solid on printer.
☐   Is the amber/red error light flashing, if so, how fast?
☐   Are the cords that are plugged into the printer plugged into correct location? ie. USB cable plugged into computer. Ethernet cable plugged into router or switch.
☐   When was the last time printer worked? Did anything in regards to setup change? Was printer moved, did anyone unplug any cords?
Clearing a paper Jam
Power off the printer.
Open the printer cover using the cover lever.
Gently pull on the paper that is jammed inside the printer until it is completely removed from the unit.
Straighten the roll of paper and close the printer cover.
Power on the printer and resume printing functions.